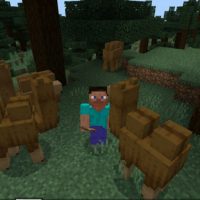 Camel Mod for Minecraft PE
Version MCPE: 1.2.0 - 1.20.31
Download
Download Camel Mod for Minecraft PE: meet new animals on which you can go on a journey and even take all the necessary items with you in a chest.
What is new in Camel Mod?
There are many different animals in Minecraft PE that users can make friends with and even tame of them. You can also use horses to move around the cubic world.
The authors of Camel Mod offer another creature that is also perfect for trips and it can even be supplemented with a chest to take everything you need with you.
Camels
To get a new animal, you need to find a pig spawn egg in the Inventory of the Creative Mode. As you know, camels live mainly in deserts, but now Minecraft PE players can use them in any biomes and easily move to any distance.
Another undoubted advantage is the ability to supplement the mob with a chest. To do this, take an object and approach the creature. The Attach Chest button will appear, by clicking on it a new object will appear on the animal.
It consists of 27 slots and this is more than enough to take everything you need on a trip. This is very convenient, because in long journeys you may always need certain things.
By the way, the authors of Camel Mod provided that the mob can run away and so that this does not happen, it can be put on a leash. The only thing you do not need to do is offend the new creature because in response he can spit at the offender.
New Creatures
In this update, Minecraft PE players will be able to move around on a new animal on horseback. A separate summoning egg is provided for his spawn in the Inventory. The mechanics of interacting with him are similar to a horse.
That is, you need to approach the mob and click on the Mount button that appears. By the way, besides these creatures, Camel Mod adds many other interesting creatures to the cubic world.
Evaluate all the features right now, it will allow you to have a great time and get acquainted with new features.
How do I install this Camel mod?

The file is in .mcaddon extension, so just tap on the file to automatically install the modification.

Can this mod be run in a multiplayer game?

Yes, for this it is enough just to be the owner of the card and install this modification on it.

What if the mod doesn't work?

Try to activate the experimental game mode.
download anchor
Download Animal Mod for Minecraft PE