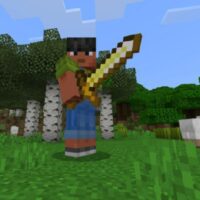 Size Potion Mod for Minecraft PE
Version MCPE: 1.18.0 - 1.20.41
Download
Download Size Potion Mod for Minecraft PE: Use special drinks to change your height or use them to destroy your enemies.
What is interesting in Size Potion Mod?
Swords and crossbows can be useful to a Minecraft PE player during the battle. With the Size Potion Mod, they will receive unique drinks that will help them win any battle.
Now you can defeat the enemy by increasing your height, and, accordingly, your strength by half, or vice versa, it will decrease and become invisible to others.
More Potions
The authors of Size Potion Mod offer users the fascinating process of creating their own potions and their further application in Minecraft PE. This time they have expanded the possibilities of these drinks, which when you add gunpowder to them, you can not drink, but throw at your enemies.
Thus, the enemy can be poisoned, set on fire, or blow up mobs or blocks. Honey is also used in one of the compositions, as a result of which players will be able to summon bees that will attack evil creatures.
By the way, all options in ready-made form and with antidotes can be found in the Inventory, provided that the user has selected the Creative mode in the mod settings.
Size Potion
Minecraft PE heroes can change the height of the player by simply drinking a magic drink, who will install this update for Size Potion Mod. To do this, it is enough to choose a Creative mode and open the Inventory or brew a potion yourself.
There are two options to choose from: decrease and increase. In the first case, the size will be so tiny that falling from a height of up to 20 blocks will not affect the health of the hero, but at the same time, he will become vulnerable even to animals such as cats or foxes.
After drinking another drink, the player will immediately double in size and get more strength and speed, but at the same time falling even from a small height can be fatal for him.
How do I install this Size Potion mod?

The file is in .mcaddon extension, so just tap on the file to automatically install the modification.

Can this mod be run in a multiplayer game?

Yes, for this it is enough just to be the owner of the map and install this modification on it.

What if the mod does not work?

Try to activate the experimental game mode.
Download Size Potion Mod for Minecraft PE