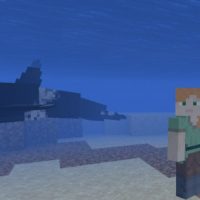 Whale Mod for Minecraft PE
Version MCPE: 1.14.0 - 1.20.31
Download
Download Whale Mod for Minecraft PE: meet terrible underwater monsters that are not only very strong but also move very fast.
What is new in Whale Mod?
For those players who think that exploring the depths of the sea has become too simple, and drowned people and guards no longer cause the slightest fear, Whale Mod is perfect. Its authors have tried to add the strongest and most dangerous inhabitants of the underwater world to the cubic world.
And even though they mainly eat fish and other animals, these monsters will not mind eating the players themselves. With this update, learning Minecraft PE will become much more difficult, but at the same time more interesting.
Players can go to meet adventures and overcome their fear right now. Do not forget to turn on the experimental mode, this will help you use all the available features.
Sharks
In the real world, a huge number of horror films have been shot about these animals, in which they attack and ruthlessly destroy unsuspecting people who decided to swim in the ocean or another body of water.
In Whale Mod, Minecraft PE players will be able to meet several variants of these mobs. They will spawn in warm waters. Some of them will be quite impressive in size, and others, for example, a tiger shark, although smaller, has a very fast speed.
She can catch up with the player to deal with him sooner.
Different animals
This update for Whale Mod adds 2 more underwater animals that will be extremely dangerous for the player. Meeting them will not bring the hero anything good.
The creatures have not only a very impressive size but also a high speed of movement and can attack or catch up with their victim at any moment.
In any case, it will help to diversify the gameplay and add complexity to it. Every Minecraft PE player can see amazing marine life with their own eyes, but it is better to prepare for such a meeting in advance.
How do I install this Whale mod?

The file is in .mcaddon extension, so just tap on the file to automatically install the modification.

Can this mod be run in a multiplayer game?

Yes, for this it is enough just to be the owner of the card and install this modification on it.

What if the mod does not work?

Try to activate the experimental game mode.
download anchor
Download Whale Mod for Minecraft PE