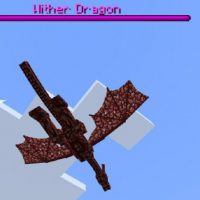 Grow Your Own Dragon Mod for Minecraft PE
Version MCPE: 1.14.0 - 1.20.31
Download
Download Grow Your Own Dragon Mod for Minecraft PE: get the opportunity to tame a very strong mob that will follow Steve and protect him.
What is new in Grow Your Own Dragon Mod?
Grow Your Own Dragon Mod will help to replenish the list of tamed creatures. By the way, it will not just be a small dog, but a full-fledged flying monster that will faithfully serve its owner.
In the world of Minecraft PE, players have never had the opportunity to have such animals under their command, so this addition will be a great opportunity to coolly diversify the game.
Mountain Creatures
Everyone who has seen these beautiful mythical animals at least once in games or movies would like to be able to make friends with them and have such a strong assistant on their side. Grow Your Own Dragon Mod provides players with this opportunity.
The authors have added several types of new creatures to the world of Minecraft PE. But it should be borne in mind that not every one of them can be tamed. If the animal is flying, then it is an aggressive individual and you will have to fight when you meet it.
Also, each of the new creatures will have its armor and unique weapons.
Grow a Dragon
First of all, players who want to tame a new friend will have to go to the swamp. After waiting for the night, you need to successfully fight the Troll, after which an egg will fall out of it.
When a new mob hatches, it will be possible to feed it with special food and thus get a new pet. In this update for Grow Your Own Dragon Mod, there are several variants of creatures, each of which has unique abilities:
lightning – attacks with lightning;
caveman – flies very fast at night;
icy – tamed with the help of tropical fish. Users can put a saddle and armor on it after the animal has fully grown;
fiery – players can become its owner by feeding your pet cod. They can ride and fly it across the expanses of Minecraft PE.
How do I install this Grow Your Own Dragon Mod?

The file is in .mcaddon extension, so just tap on the file to automatically install the modification.

Can this mod be run in a multiplayer game?

Yes, for this it is enough just to be the owner of the card and install this modification on it.

What if the mod doesn't work?

Try to activate the experimental game mode.
download anchor
Download Grow Your Own Dragon Mod for Minecraft PE