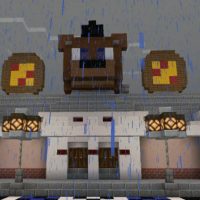 Freddy Fazbear Pizza Map for Minecraft PE
Version MCPE: 1.16.0 - 1.20.15
Download
Download Freddy Fazbear Pizza Maps for Minecraft PE: try to resist creepy animatronics and pass all the tests.
What is interesting in the Freddy Fazbear Pizza Maps?
Based on the popular game Five Nights at Freddys, many locations for Minecraft PE have been created. This horror game has millions of fans around the world.
Freddy Fazbear Pizza Maps creates an atmosphere of horror and fear in a cubic world. Creepy and exciting adventures are already waiting for the players.
Restaurant
This update for Freddy Fazbear Pizza Maps completely recreates the famous pizzeria. The developers have created a creepy atmosphere of a popular horror game in Minecraft PE.
Naturally, the hero will have to resist in a fight with animatronics who will try to kill him. Bonnie, Chica, Foxy, and, of course, Freddy will again make every effort to make the players really scared.
In this inhospitable building, the hero is waiting for a lot of hidden tasks and dangers. There is even a control room, like in the original game. It has a door and light control system, but the power is limited, so it is better to hurry up.
Pizzeria
An incredibly cool location for Freddy Fazbear Pizza Maps, where the author has created more than 60 places in which the hero can hide. This is a great opportunity to play Minecraft PE with friends.
Each element is drawn in detail to give players the impression that they have got into the most famous pizzeria of Freddy the bear.
There are many rooms where the hero can explore and try to find valuable items. A great opportunity to have fun.
The map will appeal first of all to all fans of the franchise because it really repeats the appearance of the original items as much as possible. But even those players who have not heard about the game Five Nights at Freddys will be interested in exploring this interesting location.
How to download Freddy Fazbear Pizza Map?

Tap the file and open it in Minecraft PE.

Can I use this map with my friends?

Yes, the map can be used for a multiplayer game.

Can i use the map in the survival mode?

Yes, the map is suitable for the survival mode.
download anchor
Download Freddy Fazbear Pizza Map for Minecraft PE