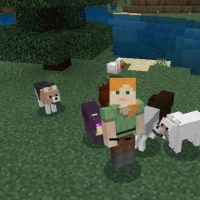 Wolf Mod for Minecraft PE
Version MCPE: 1.16.0 - 1.19.83
Download
Download Wolf Mod for Minecraft PE: create a loyal friend and a strong defender who will protect his master from danger.
What is interesting in Wolf Mod?
The developers have made Wolf Mod incredibly interesting, thanks to a large number of species of these animals. Now in Minecraft PE, players will be able not only to tame a wolf but also to make him their friend.
There are many different treats available in the update, thanks to which the animal will become stronger and more resilient.
Color options
With Wolf Mod, players will have access to many different wolves, each of which will differ in the color of the coat and other elements:
brown – differ from ordinary wolves only in color;
black – meet in the taiga;
white – spawn in snowy locations;
huskies – meet where it is cold.
wild – live in the savanna, smaller than standard wolves;
snowy – their color is gray-white and they can freeze anyone they bite. The effect lasts up to 5 seconds;
scary – a very rare species, larger and stronger than an ordinary wolf. If they are tamed, they will protect the owner from enemies.
This update will diversify the Minecraft PE world with even more other wolves, all of them very dangerous and incredibly interesting.
Treats
With the help of food in Wolf Mod, players will be able to give new opportunities to their pets: they will be able to swim in the water, will not receive damage when falling, teleport or run faster.
In fact, with the help of treats, the possibilities of wolves in Minecraft PE will be almost unlimited.
They will be able to become not only a friend but also a loyal defender of the player.
Other functions
In Wolf Mod, this kind of animal received smooth animation of movements in the Minecraft PE world. If the player holds a stick, he can order the wolf not to chase him.
In this update, mobs can search for bones to eat. If they have nothing to do, they can lie down and rest until something interesting happens.
How do I install this mod?

The file is in .mcaddon extension, so just tap on the file to automatically install the modification.

Can this mod be run in a multiplayer game?

Yes, for this it is enough just to be the owner of the card and install this modification on it.

What if the mod doesn't work?

Try to activate the experimental game mode.
Download Wolves Mod for Minecraft PE