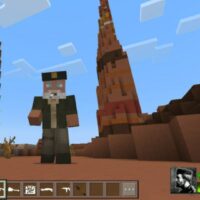 Left 4 Dead Mod for Minecraft PE
Version MCPE: 1.20.0 - 1.20.40
Download
Download Left 4 Dead Mod for Minecraft PE: survive in a dangerous world where danger lurks at every step of the players, and creepy zombies strive to attack and destroy everyone.
What is interesting in Left 4 Dead Mod?
A modern first-person shooter has found its continuation in Minecraft PE thanks to the efforts of the authors of Left 4 Dead Mod. Cube World players will transform into one of the heroes of the original story and fight with hordes of zombies.
A new set of weapons and various items that will come in handy in the gameplay can help them in this difficult task. Arrange large-scale battles with creepy monsters, defeat them, and get a unique experience.
Opportunities
If a Minecraft PE player has chosen Creative mode when installing the update, then he will find a lot of unusual items in the Inventory. Among them, there is an object on which four characters are depicted.
Take it in your hand and tap anywhere, after that, the menu will open. In it, you can choose your appearance for the time of passing the test in Left 4 Dead Mod. Four options are offered. This is Bill, Louis, and Francis. These are male characters who can deftly and without pity deal with zombies.
And Zoey – this image is female, but at the same time the girl can also stand up for herself perfectly.
Gameplay
The action of the original story takes place in a very ordinary city, where for some reason zombies begin to spread and kill everyone who gets in their way. In Minecraft PE, the plot is similar, but the action takes place in nature.
Heroes who decide to install Left 4 Dead Mod will have a very difficult time, but at the same time, such an adventure will be remembered for a long time. In addition to weapons in the form of knives, pistols, and machine guns, they can use other items for protection.
For example, an electric guitar or pitchfork.
How do I install this Left 4 Dead mod?

The file is in .mcaddon extension, so just tap on the file to automatically install the modification.

Can this mod be run in a multiplayer game?

Yes, for this it is enough just to be the owner of the map and install this modification on it.

What if the mod does not work?

Try to activate the experimental game mode.
Download Left 4 Dead Mod for Minecraft PE