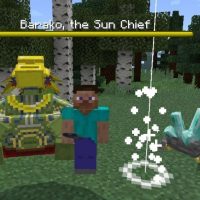 Mowzies Mobs Mod for Minecraft PE
Version MCPE: 1.16.0 - 1.20.40
Download
Download Mowzies Mobs Mod for Minecraft PE: try to fight incredible monsters and defeat them.
What is interesting in Mowzies Mobs Mod?
The already famous Mowzies Mobs Mod adds new creatures to the game with which the player can fight. The graphics and sounds of these mobs are worked out to the smallest detail. The heroes are waiting for truly exciting and fierce battles in Minecraft PE.
Each of these creatures has special characteristics and skills. These mobs diversify the gameplay, and the hero will not be bored with them.
Monsters
In total, Mowzies Mobs Mod features 8 unprecedented creatures that will surprise players with their strength and power.
Folliaath
This is a monster from the Mowzies Mobs mod, his hero can meet in Minecraft PE in the jungle. It is recommended to attack from afar because Folliaath attacks everything that moves.
Drop seeds, if you plant them, you can grow meat. But even in this case, the plant will not become friendly and will attack the hero.
Naga
The hero can meet this creature on the hills or in the mountains. This is a flying snake, whose main weapon is poison. The best way to overcome him is to hit him with a projectile during an attack, then Naga will fall to the ground and the hero will be able to finish him off.
The player can get a spike for making a poisonous blade or an antidote from this monster from Mowzies Mobs Mod for Minecraft PE.
Barako, The Sun Chief
This ancient deity attacks the enemy with the rays of the sun. Users can get a mask from it that will spawn Barakoa from Mowzies Mobs Mod.
Barakoa
These creatures of the Mowzies Mobs Mod live in the savannah and make the way through it quite dangerous. After all in Minecraft PE, they move in groups and can surround or arrange a chase for the victim.
Some have batons in their hands, and others have poisoned pipes. Drop masks that the hero can put on himself and receive protection or useful effects.
Grottol
The hero from Mowzies Mobs Mod can meet this creature in caves underground. If the user catches him and deals damage, he can get experience and a diamond.
Ferrous Wroughtnaut
This is a very powerful boss from Mowzies Mobs Mod who is in a dormant state. But as soon as the hero gets close to him, he will start attacking. Can kill an unprotected player with a single hit.
How do I install this mod?

The file is in .mcaddon extension, so just tap on the file to automatically install the modification.

Can this mod be run in a multiplayer game?

Yes, for this it is enough just to be the owner of the card and install this modification on it.

What if the mod doesn't work?

Try to activate the experimental game mode.
Download Mowzie's Mobs Mod Minecraft PE