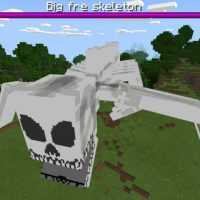 Skeleton Mod for Minecraft PE
Version MCPE: 1.2.0 - 1.20.32
Download
Download Skeleton Mod for Minecraft PE: fight a creepy creature of enormous size and other dangerous inhabitants of the cubic world.
What is interesting in Skeleton Mod?
As you know, in Minecraft PE skeletons appear only at night, and with the appearance of the first rays of the sun, they immediately burn up. Thus, daytime was relatively safe and accessible for the heroes to do their daily chores.
Everything will change after installing the Skeleton Mod. Now these creatures will not only be much more dangerous, and in some cases even more, but will also become a threat at any time of the day.
 Robots Skeleton
Since installing this update for Skeleton Mod, the appearance of these creatures will change somewhat. The fact is that if they previously consisted of bones, now there will be metal instead of them.
This will significantly increase the health of the skeletons, which will be equal to 25 units. They will still impose a slowing and drying effect on their victims. Important information for Minecraft PE players will be that they receive damage from water, and they are not afraid of sunlight at all.
Big Fre Skeleton
A giant monster vaguely resembling a skeleton from Minecraft PE will become the most significant danger for players in the cubic world. Only courageous and experienced heroes can defeat this creature.
It is worth noting that its characteristics are amazing. Their health is 45,000 units, and the damage he deals to his opponents is 210. But he also has weaknesses, for example, in Skeleton Mod he is afraid of lava.
Boss
Every player who installs this update for Skeleton Mod will be able to fight a really dangerous and almost invincible opponent. A huge monster armed with a sword deals damage of 9999 units.
It is worth noting that its appearance in Minecraft PE automatically changes the game mode from Creativity to Survival.
How do I install this Skeleton mod?

The file is in .mcaddon extension, so just tap on the file to automatically install the modification.

Can this mod be run in a multiplayer game?

Yes, for this it is enough just to be the owner of the map and install this modification on it.

What if the mod does not work?

Try to activate the experimental game mode.
download anchor
Download Skeleton Mod for Minecraft PE