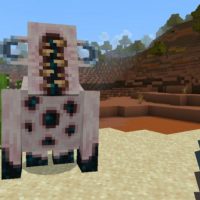 Void Mod for Minecraft PE
Version MCPE: 1.19.0 - 1.20.32
Download
Download Void Mod for Minecraft PE: try to defeat a dangerous opponent who not only looks terrible but also has a large reserve of health.
What is interesting in Void Mod?
You can diversify the gameplay and add new biomes, mobs, and plants to Minecraft PE right now. It is enough to install Void Mod and enjoy the outlandish spaces of Edge measurement.
Also, in the underground caves, players will be waiting for a creepy monster that picks up the vibrations of its victims.
Endless Void
The authors of this update for Void Mod offer players the opportunity to expand the world of Minecraft PE. It is proposed to start with measuring the Edge, where many interesting and outlandish things will now appear.
First of all, here you can walk through new biomes where incredible plants grow. Visit the Ingres Forest, the Jellyfish Jungle, and the Ethereal Ruins. By the way, you can find treasures in them. When visiting the Ethereal Towers, be careful, because they are simply teeming with various traps.
Incredible mobs will also pose a danger to players, for example, Blomp – he attacks with electric balls, as well as Catchers attacking in groups of 2-5 individuals. You can bargain with a Dribble, and ride a Koba.
Void Mod
After installing this update, a very dangerous and creepy opponent will appear in Minecraft PE. Hollow looks similar to Warden and also detects vibrations. When this Void Mod monster recovers health, it can't move.
The creepy creature has a lot of health and attack damage, and touching the victim causes her to have a nausea attack. You can meet him in underground caves. Unlike Warden, killing which players do not get anything, defeating Hollow will be awarded a small amount of experience.
By the way, this creature is afraid of blocks that contain soul energy, keep this in mind before you try to defeat it.
How do I install this Void mod?

The file is in .mcaddon extension, so just tap on the file to automatically install the modification.

Can this mod be run in a multiplayer game?

Yes, for this it is enough just to be the owner of the map and install this modification on it.

What if the mod does not work?

Try to activate the experimental game mode.
download anchor
Download Void Mod for Minecraft PE