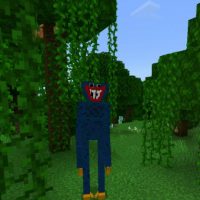 Poppy Playtime Mod for Minecraft PE
Version MCPE: 1.17.0 - 1.19.63
Download
Download Poppy Playtime Mod for Minecraft PE: try not to fall into the clutches of a creepy monster who is looking for his victim.
What is interesting in Poppy Playtime Mod?
The developers of the Poppy Playtime Mod were inspired by the incredibly popular game. The main character of which is a monster two meters tall. He has disproportionately long limbs, which he can also lengthen to get to the victim.
The huge mouth, which is constantly open in a terrifying smile, exposes sharp fangs. Now Minecraft PE users should be very careful. After all, there is one more creepy creature in the cubic world.
Game
This time Minecraft PE players will have to go through a terrible ordeal. The fact is that terrible creatures from the toy factory now roam the cubic world. In the Poppy Playtime Mod, the hero meets creatures that are terrifying by their very appearance.
It is worth noting that this update works in Creative mode, in the Inventory of which you can find a unique two-handed device. With its help, you can activate various mechanisms that can help in the confrontation with monsters.
Monster
The main character of the whole story about an abandoned toy factory is a monster called Huggy Waggy. Minecraft PE players can be sure that they will make every effort to get to their victims. Moreover, in the Poppy Playtime Mod, his limbs are able to stretch to a distance of up to thirty blocks.
This creature has a huge reserve of health and it will take a lot of strength and skills to engage him in battle and win. It is better to take care of protection in advance and put on a full set of equipment.
By the way, it is better not to even try to escape from the villain by running. The fact is that this creature is able to accelerate in a matter of seconds. Only the bravest and luckiest heroes will be able to defeat this terrible monster.
How do I install this Poppy Playtime Mod?

The file is in .mcaddon extension, so just tap on the file to automatically install the modification.

Can this mod be run in a multiplayer game?

Yes, for this it is enough just to be the owner of the card and install this modification on it.

What if the mod doesn't work?

Try to activate the experimental game mode.
Download Poppy Playtime Mod for Minecraft PE