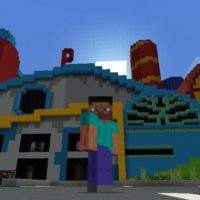 Poppy Playtime Map for Minecraft PE
Version MCPE: 1.18.0 - 1.20.15
Download
Download Poppy Playtime Map for Minecraft PE: visit the scariest and most mysterious toy factory in history.
What is new in Poppy Playtime Map?
This time Minecraft PE users will face a difficult test. The developers of the Poppy Playtime Map offer to go to an abandoned toy factory, where terrible things have recently begun to happen.
It is worth noting that the locations are drawn in great detail, and the soundtrack creates the atmosphere of a real horror adventure. This update will definitely appeal to all fans of creepy and scary stories.
Creepy Factory
A very atmospheric update was prepared by the author of the Poppy Playtime Map for all Minecraft PE users. This location completely repeats the similar one from the famous game. The players will be hunted by a terrible monster named Huggy Waggy.
At the same time, the heroes themselves who dared to go to this terrible factory will have a hard time. They will need to perform various tasks to get out to freedom. Do not rely on help or hints, they are not in this abandoned place.
Abandoned production
As in the plot of the original story, Minecraft PE players enter the factory as former employees. He returned there to understand why people began to disappear from this place.
On the way, players will find a lot of riddles and puzzles, as well as a feeling of constant horror and fear. The developers of the Poppy Playtime Map have prepared for users a lot of interesting rooms in which toys were previously produced, and now terrible things are happening.
Remnants of products and bricks are scattered everywhere, there are destroyed areas – all this indicates that a fierce struggle has been going on here recently and it is unlikely that it has ended.
On the lower floors of the production, users can find a hall with mechanisms. They can be turned on using a special two-handed device, just like in the original story.
How to download Poppy Playtime Map?

Tap the file and open it in Minecraft PE.

Can I use this map with my friends?

Yes, the map can be used for a multiplayer game.

Can i use the map in the survival mode?

Yes, the map is suitable for the survival mode.
download anchor
Download Poppy Playtime Map for Minecraft PE