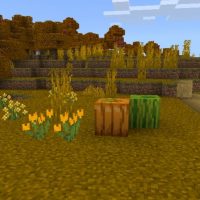 Autumn Texture Pack for Minecraft PE
Version MCPE: 1.12.0 - 1.20.32
Download
Download Autumn Texture Pack for Minecraft PE, and make your game world more beautiful by adding new bright colors!
Autumn MCPE Texture Pack
Developers often create new textures for Minecraft PE associated with the seasons. This time, users of the game will be immersed in the mysterious autumn atmosphere, when nature is filled with bright colors and gives a variety of flowers and fruits.
Forests
This unique set of textures will allow Minecraft PE players to add the entire palette of beautiful colors to the game world. The developer has focused on forests, so now you can enjoy walking, watching the beautiful yellow foliage.
It is necessary to activate the experimental settings of the game menu.
The textures of the autumn forest will add not only colors but also a special atmosphere to the game.
Autumn colors
Minecraft PE players who love bright colors, yellowing leaves, and melancholic rains will like the Autumn texture pack. Thanks to this resource pack, the game will look like the real world.
All plants, flowers, and trees will get new shades, and the natural landscape will be beautiful and bright.
Features
An unusual feature of this resource pack for Minecraft PE is that not only the textures of plants change but also the sky. Clouds become more natural, and the sun acquires more rounded shapes.
The game world looks much more realistic than before.
Players can notice some changes in blocks and items from the game inventory. They have additional colors and new textures. To create real autumn inside the world, you can plant beautiful flowers, as well as collect ripe fruits.
To feel the autumn atmosphere users should visit one of the villages in Minecraft PE. There are a lot of garden plants that complement the autumn picture. Look at pumpkins and other colorful blocks to appreciate new textures.
What if the texture pack doesn't work?

Try to activate the experimental game mode.

Can I use it on servers?

Yes, you are free to use it on public servers.

How do I install this texture pack?

The file is in .mcpack extension, so just tap on the file to automatically install the modification.
download anchor
Download Autumn Texture Pack for Minecraft PE