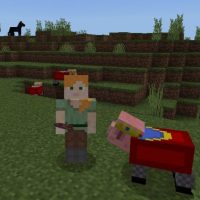 Technoblade Texture Pack for Minecraft PE
Version MCPE: 1.16.0 - 1.20.31
Download
Download Technoblade Texture Pack for Minecraft PE: get the opportunity to meet a famous YouTuber in the game!
Technoblade Texture Pack for Minecraft PE
The world of Minecraft PE unites people from all over the world. They may have different interests, hobbies, and jobs.
But the main thing is that they all adore the multifaceted world of their favorite game. A huge number of people also take part in the creation of the game space.
First of all, of course, these are developers, but besides them, there are other people, passionate about the game.
There are also so-called YouTubers among them. These enthusiastic players conduct their channels on a popular social network, where they talk about their own experiences.
Many shoot videos directly with the game process itself, share skills and secrets.
One of these players is Technoblade. It became so popular that the developers decided to make a Technoblade Texture Pack.
Who is Technoblade
The person who calls himself Technoblade is a fairly experienced Minecraft PE user. It is very popular among fans of the game that follow the latest news of the game world.
Technoblade lived in America, for 9 years of his career, Youtube has become famous throughout the gaming community.
He has millions of subscribers and their number is increasing every day.
Main Features
The developers have replaced the standard pig look in the Technoblade Texture Pack. Now it will look like this popular player. The main features of this image are a crown and a red crown raincoat.
The same changes also affected creatures from the Lower World in Minecraft PE. The pigs and also piglins here have also changed their appearance to look like Technoblade.
A pig can also be created using a summoning egg in the Inventory.
It is worth noting that changing the appearance does not change the behavior of these characters in any way.
How to install these textures?

Download and open it in Minecraft PE.

Can I use it on servers?

Yes, you are free to use it on public servers.

Can this texture pack be run in a multiplayer game?

Yes, for this it is enough just to be the owner of the card and install this modification on it.
download anchor
Download Technoblade Texture Pack for Minecraft PE