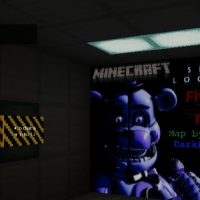 FNAF 5 Map for Minecraft PE
Version MCPE: 1.16.0 - 1.20.32
Download
Download FNAF 5 Map for Minecraft PE: get into the scary world of one of the most popular horror games!
FNAF 5 Map for Minecraft PE
Five Nights at Freddy is a popular quest in the horror genre, where the player must pass all the tests. According to the plot, the hero is given tasks at the beginning of each night.
He moves between different rooms and performs tasks. In FNAF 5 Map, all the ideas of the original game are integrated into the world of Minecraft PE.
On the way to victory, the player is met by creepy animatronics who will try to kill the hero.
First
When a player hits the FNAF 5 Night 1 Map, a voice immediately begins to sound. This is a narrator who explains where the hero is in the Minecraft PE world.
He communicates quite sweetly and affably, which cannot be said about this place.
The semi-darkness and the flashing light of the lamps suggest that nothing good can happen here.
The passage of this map will not take much time, but it will definitely be remembered by every player.
Second
There are strong changes in this update for Minecraft PE. The voice that voices tasks and guides the player in the game space has changed.
In FNAF 5 Night 2, all the scary monsters come back and try with all their might to scare the player. This is a dark and creepy place in which you need to be very brave to win.
Complete silence, which is interrupted by eerie sounds accompanies the hero throughout the game. But one thing is for sure, a truly creepy adventure awaits players on this map!
Third
FNAF 5 Sister Location Night 3 features improved game mechanics. To survive on this map for Minecraft PE, the player must pass all the tests and not become another victim of Freddy.
Dark corridors, strange rooms, and creepy mechanisms – all this will meet on the way of those who dare to try to win. This is a difficult test for the bravest players!
How to download FNAF 5 Map?

Tap the file and open it in Minecraft PE.

Can I use this map with my friends?

Yes, the map can be used for a multiplayer game.

Can i use the map in the survival mode?

Yes, the map is suitable for the survival mode.
download anchor
Download FNAF 5 Map for Minecraft PE