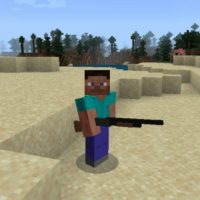 Hunters Mod for Minecraft PE
Version MCPE: 1.18.0 - 1.20.31
Download
Download Hunters Mod for Minecraft PE: feel yourself on a real hunt, use all the possibilities and get the loot as a reward.
What is new in Hunters Mod?
Hunters Mod offers cool new features to all Minecraft PE users. For all those who have wanted to hunt for a long time, the developers have created a wonderful update.
First of all, it adds new mobs, on which the hunt will begin. Also at the disposal of the players will be a new weapon that was created specifically for this exciting activity. Players will have to fight not only with ordinary animals, but also with huge and very strong monsters.
Hunting
Of course, hunting is impossible to imagine without animals, which are actually to be hunted. This update for Hunters Mod adds three of the most popular mobs for this type of activity: wild duck, deer, and black bear.
Minecraft PE players can arm themselves with a shotgun, which will need to be loaded with bullets. The most luckiest users can use a real hunting knife to cut up the carcass and get valuable items.
Do not forget to enable Experimental Mode, otherwise, the update will not work.
Monsters
This is a large-scale addition for Hunters Mod, in which players will have to go hunting, but not for the usual, but real monsters. The most amazing and unusual creatures will roam freely around the world of Minecraft PE.
To help players, there will be new swords that look just amazing and very unusual. As well as a large selection of various potions that will help to quickly restore health or strengthen the hero.
It is worth noting that the players will meet a new merchant. He will be able to exchange body parts or bones of monsters for new weapons or magic drinks.
All the new mobs are quite impressive in size and look like dinosaurs. Some of them even completely repeat the appearance of ancient reptiles. Only the bravest players will be able to fight these creepy creatures.
How do I install this Hunters Mod?

The file is in .mcaddon extension, so just tap on the file to automatically install the modification.

Can this mod be run in a multiplayer game?

Yes, for this it is enough just to be the owner of the card and install this modification on it.

What if the mod doesn't work?

Try to activate the experimental game mode.
download anchor
Download Hunters Mod for Minecraft PE