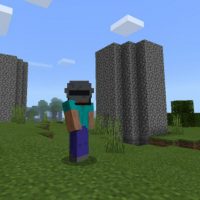 Project Walker Mod for Minecraft PE
Version MCPE: 1.16.0 - 1.20.32
Download
Download Project Walker Mod for Minecraft PE: try to survive in a post-apocalyptic world that is full of dangers and dangerous adventures.
What is interesting in Project Walker Mod?
Project Walker Mod has prepared new difficult but very interesting challenges for all Minecraft PE users. Players enter a world that has experienced a real apocalypse. All who remained alive were divided.
First of all, because of what happened, zombies and infections appeared, which can be extremely dangerous for the player. By the way, bandits roam everywhere, who can attack or rob the hero. There may also be survivors on the way, but they are not dangerous.
At the disposal of the user will be several types of equipment, various weapons, and even buildings in which users can hide from the dangers, which in this creepy world will be enough.
New dangers
It is worth noting that as soon as the hero gets into the post-apocalyptic world, he will notice a new strip of thirst that will appear on the screen. This indicator will decrease every minute, so it is worth keeping a close eye on it.
If his level decreases completely, the hero will feel weak. To replenish the forces in Project Walker Mod there are several options for drinks and water in a bottle.
But the main danger for the Minecraft PE player is zombies and infection. They were once people, and now they have turned into creepy creatures. They can cause damage and have a 50% chance of infecting the hero. In this case, it is better for him to take the antidote immediately.
Weapons and useful items
In order to face the dangers in Project Walker Mod, there is a wide selection of different weapons. But users should use it very carefully because loud sounds can attract other infected people.
That is why, in addition to pistols and guns, the hero will have all kinds of shovels, pipes, and axes at his disposal.
Due to the fact that Minecraft PE now has a post-apocalyptic atmosphere, food will be appropriate. These are mainly dry rations and canned food.
How do I install this Project Walker Mod?

The file is in .mcaddon extension, so just tap on the file to automatically install the modification.

Can this mod be run in a multiplayer game?

Yes, for this it is enough just to be the owner of the card and install this modification on it.

What if the mod doesn't work?

Try to activate the experimental game mode.
Download Project Walker Mod for Minecraft PE