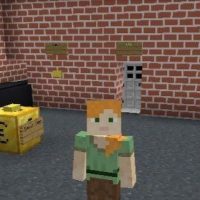 Tycoon Map for Minecraft PE
Version MCPE: 1.4.0 - 1.20.31
Download
Download Tycoon Map for Minecraft PE: earn your first million, survive on an island, and explore new places!
Best Tycoon Maps for MCPE
There are many locations where Minecraft PE players should survive with fewer resources. But there are also places where they can make money.
Exciting Tycoon Maps takes a player to a completely unusual world where you need to take risks and use survival skills to win and earn good money.
Tycoon Island by DelisoJan
This location is an exciting journey into a new world of Minecraft PE. Steve appears in a completely isolated room. There are several notes on the walls. They help to understand the rules of the Tycoon map.
It seems that this is a dead-end, but you can notice the play button on one of the walls. Clicking on it and players will be transported to an island that seems uninhabited. At the same time, it contains many secrets and riddles.
By the way, the Tycoon map is available in survival and creation modes.
Users need to make efforts to save their lives. There are signs with instructions on the island. Use them and become the owner of an incredible place in the middle of the ocean.
Tycoon Map by RLeon
Players who want to become rich and increase their fortune will like this location for Minecraft PE. The Tycoon map is perfect for a play with friends. It will allow users to get a good result even faster.
By the way, you can organize a competition with friends for the right to be considered the richest.
There are two ways to get coins:
Conveyor belt, where it is possible to buy various items and things;

casino, where you can both win and lose money.
The last way is riskier. But in case of a win, it will be possible to get coins even faster. Steve can also get a second conveyor belt.
This MCPE Tycoon map is for players who are not afraid to take risks and want to get a lot of impressions. Of course, the reward is worth that.
How to download Tycoon map?

Tap the file and open it in Minecraft PE.

Can I use the map with my friends?

Yes, the map is perfect for a multiplayer game.

What mode is better to use with the map?
download anchor
Download Tycoon map for Minecraft PE