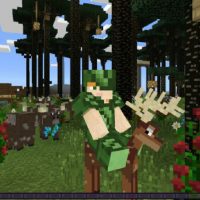 Twilight Forest Map for Minecraft PE
Version MCPE: 0.16.0 - 1.20.41
Download
Download Twilight Forest Map for Minecraft PE: visit an incredible location where not only standard mobs have changed, but also many new and amazing creatures have appeared.
What is new in Twilight Forest Map?
This location represents several new biomes at once, all of them are made in a forest theme and contain a large number of unusual creatures for Minecraft PE. In addition, the authors of Twilight Forest Map completely redesigned all the territory.
The reactor core of which now looks very different. If you destroy it with a pickaxe, you can get iron ingots and diamonds.
New creatures
The authors of Twilight Forest Map have added many new creatures to the cubic world, which have replaced the usual inhabitants of Minecraft PE. Thus, instead of pigs, players will meet real bison, and beautiful deer with big horns will replace the donkey.
By the way, the latter will be happy to take the player around the territory. This should be done first because the surrounding space looks very unusual and even fabulous.
Players will no longer see the wolves familiar with cubic space. Now you can meet big brown bears in the forests. These creatures consider their main delicacy raw fish, with which they can be tamed. Some of the mobs have slightly changed their appearance, for example, all kinds of cows and sheep have impressive horns.
Graphics
It is worth noting that this update for Twilight Forest Map is optimized in such a way that it is suitable for almost any device and is available to a large number of users. At the same time, regardless of the Minecraft PE version, the graphics will be fine.
Bright colors and a fabulous atmosphere attract everyone who comes to these places from the first minutes. The texture of some blocks has been changed. For example, wooden boards will now appear instead of wool, but all properties, such as sounds, will remain the same.
Start your incredible and interesting adventures right now.
How to download Twilight Forest Map?

Tap the file and open it in Minecraft PE.

Can I use this map with my friends?

Yes, the map can be used for a multiplayer game.

Can i use the map in the survival mode?

Yes, the map is suitable for the survival mode.
Download Twilight Forest Map for Minecraft PE