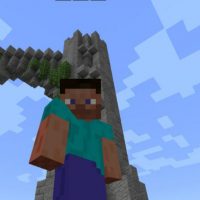 Attack on Titan Map for Minecraft PE
Version MCPE: 1.18.0 - 1.20.41
Download
Download Attack on Titan Map for Minecraft PE: go to locations from the interesting history and become a real hero, as well as arrange themed adventures in these places.
What is new in Attack on Titan Map?
This time, the authors of Attack on Titan Map offer players to visit a small town surrounded by a high wall. It was in it that the brave characters lived according to the plot of the original story.
Players can even visit their house, which completely repeats the interior in this anime. By the way, the developers have recreated Utgard Castle. This abandoned building holds many secrets and surprises that the brave heroes of Minecraft PE will have to solve.
Utgard Castle
All fans of the famous story will recognize this building, which is called Utgard Castle. Although judging by its appearance, it looks more like a ruin. Tired travelers took shelter in it for the night in the original anime.
In the world of Minecraft PE, heroes can also visit this legendary building and arrange themed adventures in it. In Attack on Titan Map, the authors have completely recreated this abandoned castle. Which according to the plot is located near the Pink Wall.
Explore the entire territory, and perhaps the luckiest heroes will be lucky to find treasures forgotten by robbers.
Main Characters House
The Attack on Titan map offers to visit the area where the main characters live and which has some very original features. Minecraft PE players will find themselves in a small city in a medieval style.
It is the main feature is that it is surrounded by an impregnable and very high wall. This is done to protect the locals from the attack of the enemies.
Being inside, each player will feel completely safe and will be able to fully experience the unique atmosphere of these places. Invite your friends to create a new story of incredible adventures together.
How to download Attack on Titan Map?

Tap the file and open it in Minecraft PE.

Can I use this map with my friends?

Yes, the map can be used for a multiplayer game.

Can i use the map in the survival mode?

Yes, the map is suitable for the survival mode.
Download Attack on Titan Map for Minecraft PE