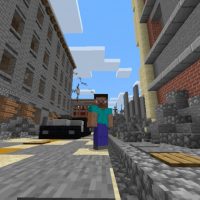 Fallout Map for Minecraft PE
Version MCPE: 1.11.0 - 1.19.63
Download
Download Fallout Map for Minecraft PE: visit a creepy city with destroyed buildings and empty streets, play with your friends, and survive with no resources!
Fallout Map for MCPE
The Fallout map will be an ideal option for players who want to visit the city after the apocalypse in Minecraft PE. The developer of this location did not just build a city but added all the attributes of a famous game.
The plot of a popular game created by Interplay Entertainment is about the world after a nuclear war. There are many fans of this genre in the cubic world. The location will be a suitable place for everyone who dreamed of experiencing the horror after the apocalypse.
Features
Minecraft PE players have the opportunity to walk through the post-apocalyptic plains and appreciate the abundance of details on the Fallout map. It has three modes: survival, creativity, and adventure. So players can choose what they like to use.
Locations
The developer spent a lot of time creating the city. The hero enters a place that has no life at all. The developer managed to build a copy of the Fallout world in Minecraft PE.
Here fans of this theme will find familiar locations and buildings.
First, users will see a destroyed red brick bridge. Around the bridge, you can see traces of a destroyed civilization. If you go further, you will find a big territory that is fenced.
There are empty streets, destroyed buildings, and creepy houses inside the city. There are also cars left can on the roads.
The landscape of this place corresponds to the theme. There are no plants here, only rusty machinery on empty streets.
Other details
Players can use the map with friends by arranging a survival game in Minecraft PE. Or you can walk through the streets and explore the surroundings.
The Fallout city territory is huge, so it takes time to see it all.
How to download Fallout map?

Tap the file and open it in Minecraft PE.

Can I use this map with my friends?

Yes, the map can be used for a multiplayer game.

Can i use the map in the survival mode?

Yes, the map is suitable for the survival mode.
Download Fallout map for Minecraft PE