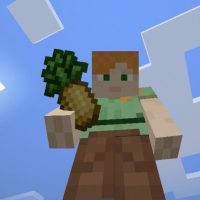 Food Mod for Minecraft PE
Version MCPE: 1.12.0 - 1.19.63
Download
Download Food Mod for Minecraft PE: taste different fruits and vegetables, try fast food, and drink some coffee!
Food Mod for MCPE
Minecraft PE players need food to survive. They will be happy to know, there are mods that add many variants to the game world.
Fruits and Vegetables
There is a good mod with fruits and vegetables for players who want to get more food in Minecraft PE. You will find 19 new fruits, berries, and vegetables, including strawberries, oranges, tomatoes, eggplants, cabbage, lemons, bananas, and other food!
Features
This mod for Minecraft PE will add new vegetables. Use a special command to get all the items: /function vegetables.
By the way, players can make popcorn from corn.
A lot of food
This mod adds a large amount of varied food to Minecraft PE. You can craft food in the survival mode or get it in the creative mode. The add-on offers more than 150 new products and dishes. Those who like to eat will definitely like this addition.
Seeds fall out of the grass. Players can use vanilla flowers to make vanilla extract. This extract can be the material for making vanilla cream.
By the way, users can grow different plants in the game: rice, pepper, corn, cucumbers, lettuce, onions, tomatoes, and strawberries.
Fast food
This mod for Minecraft PE will bring fast food from a popular cafe to the game. There are also some new blocks for decoration. This small addition will satisfy the hunger of the players.
Items
Steve will get the most famous dishes from the diner. Among them are French fries, burgers, nuggets, and Coca-Cola.
There is also a new item in Minecraft PE, the Monopoly game. The item is used as currency to buy food from a villager.
Mobs
The Monopoly Hat is a new mob appearing all over the Minecraft PE world. The hat drops monopoly currency. The mob has a health of 20 units.
In the villages, you can find a mob named McDonald. You can bargain with him, getting new items and blocks.
How do I install this mod?

The file is in .mcaddon extension, so just tap on the file to automatically install the modification.

Can this mod be run in a multiplayer game?

Yes, for this it is enough just to be the owner of the card and install this modification on it.

What if the mod doesn't work?

Try to activate the experimental game mode.
Download Food Mod for Minecraft PE