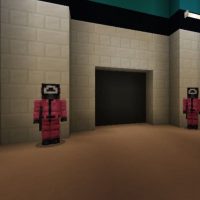 Squid Game Map for Minecraft PE
Version MCPE: 1.18.0 - 1.20.32
Download
Download Squid Game Map for Minecraft PE: get through incredible trials and try to stay alive!
Best Squid Game Maps for MCPE
The famous Squid Game series has become a popular map theme for Minecraft PE. The game idea consists of simple and harmless at first glance competitions. But if the player loses, it means death for him.
The location is the copy of the place from the series. It contains the characters and all the attributes of the survival game.
Squid Game
The Squid Game Minecraft PE map repeats one of the locations. The rules are simple: a big doll stands in the arena and utters words, after which players need to stop in time and not move. If the player fails, he dies.
To win, players need to get to the mark on the map.
By the way, Steve can go through the Squid Game map, watching the competition without participation.
Locations from the Squid Game
The Squid Game series quickly gained a rating among Minecraft PE players. The developers created similar locations for the blocky world.
This map will allow users to become participants in two types of competitions. There is a famous game with red and green lights and a glass bridge.
Game Lobby
The adventure begins in a large lobby, where Minecraft PE players start. Unusual designs everywhere complement the atmosphere of the plot of the Squid Game, and in front, there is a small room.
Indoors, you can choose game modes, change heroes and control the lighting.
Characters
Minecraft PE players can recognize several familiar characters. All of them have their numbers, as in the original plot.
By the way, you can also choose a classic character skin instead of a specific one.
Locations
The glass bridge is a structure on which Minecraft PE users must pass without falling. The second location is more difficult because players need to reach a finish line and stop on time at a signal.
How to download Squid Game map?

Tap the file and open it in Minecraft PE.

Can I use the map with my friends?

Yes, the map can be used for a multiplayer game.

What mode is better to use with the map?
download anchor
Download Squid Game map for Minecraft PE