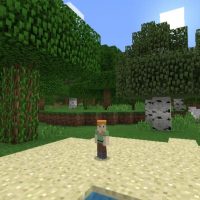 Baby Mod for Minecraft PE
Version MCPE: 1.4.0 - 1.20.32
Download
Download Baby Mod for Minecraft PE, and make yourself smaller, see the game world in a new way!
Baby Mod for MCPE
Mod developers often give Minecraft PE players the ability to change the game space. This time Steve can change himself. For example, the mod changes the size of the character to tiny, as well as it to a giant.
Baby Player
The Baby Player mod will reduce the Minecraft PE player to the size of a child. It is the main feature of this add-on. Other characteristics of the hero will not change. For example, the number of health units or strengths stays the same.
Small and Big
The mod for Minecraft PE offers players to change their size. They can become small as a baby and also a giant.
Users can decrease or increase changing parameters. It can be reduced by two times or much more. The same applies to the zoom option.
Small size
A baby player can crawl through even the narrowest openings in Minecraft PE. If you decrease by eight times, you can even fall from a height without causing damage to the character. The reduction mod helps users to hide from opponents and remain unnoticed.
By the way, a baby player practically does not cause damage to enemies. It is because of his low weight.
Big size
The Minecraft PE player, getting bigger, starts to run faster. He also has more lives, and creatures attack him less often.
You can reduce and increase with the help of particles purchased from a blacksmith in the village or use commands:
/give @s pim_shrinker_essence;
/give @s pim_big_essence.
Players can also zoom in and out of the game's creatures. There are creepers, zombies, pigs, cows among the changed mobs.
New Size
Thanks to the mod for resizing, you can reduce or increase the Minecraft PE character.
Of course, each size has its disadvantages and advantages. For example, a baby player can fit anywhere but has less health. The large size of the player helps to deal more damage but prevents you from riding a horse and makes it slower.
To become smaller, you need to pick up a golden apple and approach the caller by clicking on the button that appears. Steve needs to visit a witch with the same apple to make the size bigger.
To become ordinary, you need to approach the iron golem.
How do I install this mod?

The file is in .mcaddon extension, so just tap on the file to automatically install the modification.

Can this mod be run in a multiplayer game?

Yes, for this it is enough just to be the owner of the card and install this modification on it.

What if the mod doesn't work?

Try to activate the experimental game mode.
download anchor
Download Baby Mod for Minecraft PE