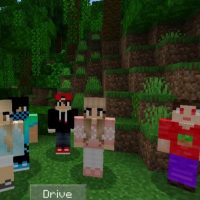 Friends Mod for Minecraft PE
Version MCPE: 1.8.0 - 1.20.31
Download
Download Friends Mod for Minecraft PE: add friendly mobs that can be tamed. New heroes will guard and protect Steve in his incredible adventures! Hurry up to download the mod to evaluate all updates!
Friends Mod for Minecraft PE
While playing Minecraft PE Steve faces many different difficulties. Overcoming them alone can be not only difficult but also boring.
In this situation, this modification of the game can be an excellent solution. With Friends Mod, you can tame characters who will become great helpers.
They will protect the hero from enemies and help in the process of survival. With new friendly mobs, the passage of the game becomes even more exciting and interesting.
Ender Archer Friend
Developers have supplemented Ender Archer Friend for Minecraft PE with two new allied characters. These mobs have the abilities of endermen. They can teleport and have the ability to shoot arrows.
You can tame new friends with bread. After that, they can get one of the types of armor.
Ender Archer Friend Mod offers players to use of new mobs as personal bodyguards who will protect the hero from evil monsters.
NPC Friends
The NPC Friends mod allows Minecraft PE players to make friends with six new characters. The developers included three guys and three girls in the game.
These mobs will make a great company while traveling in the world of Minecraft PE.
Main Features of NPC Friends:
Steve can ride the character if it is not tamed yet;
mobs can tame it with cookies;
characters will follow the hero everywhere and attack enemies;
if the mob is tamed, he becomes not only a loyal friend but also a bodyguard;
new friends can be given names to always keep an eye on them.
By the way, you can get cookies from a villager to tame a character. For that Steve will need emeralds. Sometimes it may take a lot of cookies!
How do I install this mod?

The file is in .mcaddon extension, so just tap on the file to automatically install the modification.

Can this mod be run in a multiplayer game?

Yes, for this it is enough just to be the owner of the card and install this modification on it.

What if the mod doesn't work?

Try to activate the experimental game mode.
download anchor
Download Friends Mod for Minecraft PE