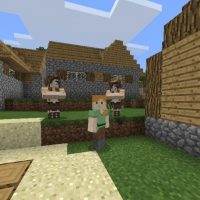 Villager Mod for Minecraft PE
Version MCPE: 0.16.0 - 1.19.63
Download
Download Villager Mod for Minecraft PE, and meet new mobs similar to real people!
Villager Mod for MCPE
Minecraft PE users often visit villages of the game world. There is a simple way to give villagers a new appearance and abilities. This mod lets new mobs look like real people.
Villagers come alive
With the help of the Villagers Come Alive mod for Minecraft PE, players can change the villagers, making them more realistic.
Functions
You can feed the villagers with cake so that they begin to multiply in Minecraft PE. Feed two residents with cake and watch as a new little inhabitant of the world appears.
There is also a new feature, now you can hire a resident as a security guard, and he will follow Steve around the world. To do this, you will need gold bars: give them to him until hearts appear next to him.
There are two types of guards: archer and swordsman. Both, at your request, will either follow Steve or stand still and wait for further instructions.
Happy Villagers
As you know, villagers in Minecraft PE are silent and do not express any emotions. The Happy Villagers mod changes these mobs and makes them look like people. Their skins vary depending on the profession.
Reproduction of villagers
Minecraft PE players can increase the number of people in a village. To do this, they need to use diamonds or emeralds. It is necessary to find one man and a woman to increase the population. After that, a child with a random profession will appear.
No more villages will disappear as the player can control the numbers.
Items
Add-on gives several new items to Minecraft PE, among them:
Librarian's desk to create a book and pen using paper;
cutting table to increase the amount of meat;
kiosk to buy various items.
Village Guards
The Village Guards mod will add guardians, repelling the attacks of robbers in Minecraft PE. These are completely new mobs that do not replace any others. To create a swordsman, you need to give an iron helmet to any villager. To create an archer, you can issue a bow.
Guards can be hired for the price of a couple of emeralds. Then they will follow you and guard you.
How do I install this mod?

The file is in .mcaddon extension, so just tap on the file to automatically install the modification.

Can this mod be run in a multiplayer game?

Yes, for this it is enough just to be the owner of the card and install this modification on it.

What if the mod doesn't work?

Try to activate the experimental game mode.
Download Villagers Mod for Minecraft PE