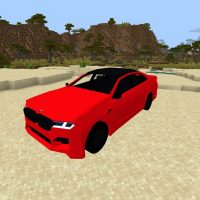 BMW Mod for Minecraft PE
Version MCPE: 1.8.0 - 1.20.32
Download
Download BMW Mod for Minecraft PE, and don't waste a lot of time traveling long distances any more!
BMW Mod for MCPE
During survival in Minecraft PE, the player has to travel a lot. He can search in this way for various treasures, biomes, and dungeons. However, such movements take a long time. This problem can be solved with modifications for high-speed cars. With their help, you can very quickly move around the cube world and save time.
BMW 135i
There is only one blue car in this BMW 135i Mod for Minecraft PE. It is capable of accelerating to 160 mph. It accelerates from zero speed to 60 mph in 5.3 seconds, which is fast enough. One of the main advantages of this car is the ability to move four players at once. Thus, the user will be able to drive himself quickly and roll his friends.
BMW M1
Unlike the previous modification, BMW M1 Mod has three cars in Minecraft PE. The first two differ only in color. The first fast car is white and the second is red. And the third car has a unique livery. The author has tried and added control animations for BMW.
For example, when turning, the player may notice how the steering wheel is turning. And when driving, the pedal is pressed and returned to the opposite state when stopped. It is also worth noting that the user has the option to open the door.
BMW M5
This BMW Mod for Minecraft PE contains an M5 brand car. It has the most detailed texture of any car. The author has provided the possibility of refueling the car using a corner. Each coal offers 100 liters of fuel.
Also, the user can place a shulker box in the BMW M5 so that things can be stored in the car. To start the motor, you must use a wrench that replaces the saddle. The last advantage of this car is the presence of a speedometer.
How do I install this mod?

The file is in .mcaddon extension, so just tap on the file to automatically install the modification.

Can this mod be run in a multiplayer game?

Yes, for this it is enough just to be the owner of the card and install this modification on it.

What if the mod doesn't work?

Try to activate the experimental game mode.
download anchor
Download BMW Mod for Minecraft PE