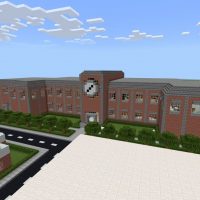 City with School Map for Minecraft PE
Version MCPE: 1.4.0 - 1.20.31
Download
Download City with School Map for Minecraft PE, and keep learning with your friends in your favorite game!
A city with School Map for MCPE
The game world of Minecraft PE provides the player with endless possibilities for realizing his creative potential. Players can come up with various things to diversify the game. One of these ideas is the whole cities of different countries. Thanks to this, users have the opportunity to visit places that they have not been to in the real world.
Highschool and Town
This City with School map for Minecraft PE is rather modest in size. But at the same time, the player will be very interested in playing in this town. First of all, it is worth noting the presence of a large high school. The building has two floors. There are many different offices inside. If desired, the user can visit the dining room.
There is also a special room where you can store your belongings. There is a separate place for troublemakers in the school where they are kept in custody. It is also worth noting the presence of many beautiful houses on this map in Minecraft PE. In addition, the player can discover a theater in this town.
Lance Ville
Unlike the previous map, this one impresses with its large size in Minecraft PE. First of all, it should be noted that the entire city is divided into islands and peninsulas. One of them houses a large, two-story school with many different classrooms. It is perfect for all kinds of RolePlay games with friends.
Also, in Lance Ville, the player can see an oil facility at sea, a space rocket, a satellite dish, and even an entire dam. Part of the city deserves special attention, in which there are many different and interesting attractions in Minecraft PE. In such a city, the user can attend school and live with complete comfort, without denying himself anything.
How to install a map for Minecraft PE?

In order to install the map, you need to move it to the address games/com.mojang/minecraftWorlds.

How are maps installed in a ZIP archive in Minecraft PE?

First of all, you need to unzip the file, then move it to games/com.mojang/minecraftWorlds/.

How are maps with the .mcworld extension installed in Minecraft PE?

After you download the file, run it. The map is automatically imported into the game.
download anchor
Download City with School Map for Minecraft PE