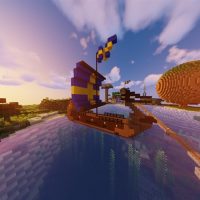 PewDiePie Map for Minecraft PE
Version MCPE: 1.13.0 - 1.20.31
Download
Download the PewDiePie map for Minecraft PE: visit one of the most well-known places in modern YouTube.
PewDiePie MCPE Map
PewDiePie is the most subscribed YouTuber that leads his channel on his own, and he played Minecraft PE, whose series has become groundbreaking.
Therefore many MCPE users would like to feel the adventure vibes Felix experienced on his map. You will encounter Water-Sheep, Joergen, and even trusty Steve.
Besides, there are numerous outstanding architectural sights you have to visit and admire.
Spawn
As Felix spawned on a lakeshore near a desert village, you would appear on the same spot. However, unlike PewDiePie, you will already have everything built up and ready to be inhabited.
Minecraft PE players shall see the Viking Boat floating on the inner lake and Sven's house on the lagoon's other side.
Furthermore, if you look back, a ginormous building in Japanese style will perch in front of you. That is your future home and the place where everything is stored.
It seems you do not even have to mine and look for resources since honorable Felix has done it for you. Luckily for all weary men and women of Minecraft Bedrock Edition, there are all kinds of materials you would need.
Other Sights
Additionally, there is the mightiest IKEA Tower and a pool right in front of this engineering wonder with a slime block as a trampoline.
MCPE players will also witness the Village Chamber, in other words. All the mechanisms are working correctly and are ready to be utilized.
You can buy whatever you may want in this sandbox survival thanks to numerous trapped citizens. The entrance to the mines is located in the chamber.
The Water-Sheep Temple stands right in front of the farms full of sewn wheat, carrot, potato, and other vegetables. The ruling Council still resides there.
Generally, loyal PewDiePie fans will like this Minecraft PE map thanks to various buildings and beloved characters.
Is PewDiePie MCPE Map large?

Where do I find the village?

It is right next to the Meatball.

Where are the resources?

They are in the main house cellar.
download anchor
Download PewDiePie