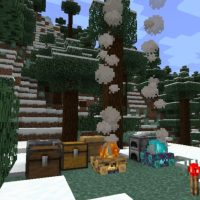 Clear Craft Texture Pack for Minecraft PE
Version MCPE: 1.16.0 - 1.20.31
Download
Download Clear Craft Texture Pack for Minecraft PE, and use different mechanisms from Redstone, add new details to the blocks and items!
Clear Craft MCPE Texture Pack
In Minecraft PE, objects and blocks already have different textures. But the developers of resource packs are constantly trying to improve them and add new elements, animations, and other features.
The Clear Craft texture pack will perfectly complement the game world of those users who often create mechanisms and want to improve their world.
Main features
The Clear Craft texture pack for Minecraft PE makes every element of the game world updated. Players can see a lot of details, even for small objects.
The design of structures and mechanisms will noticeably improve.
For example, different mechanisms with red stone will change the appearance.
Settings
Minecraft PE users can choose the design of the Clear Craft texture pack themselves. The developers have provided three options for menu settings that players can activate during the restart of the game.
The main changes will be noticeable in items such as:
Redstone Dust;
torch;
soul torch;
rails.
Animation
The Clear Craft texture pack also adds animation to Minecraft PE, and items that already had animation will improve these textures.
Players can notice new animations in beehives, the fire in the oven, and the switching on and off of the lamp made of red stone.
The appearance of some items will have new elements. For example, melon and pumpkin seeds will have more obvious external differences.
There are other additions that a set of textures will bring to the game:
New elements will appear at the pulpit, workbench, blacksmith's table, and loom;
the chests will be different from each other;
daylight sensors will get new textures, as will chairs, enchantment tables, and many other items.
What if the texture pack doesn't work?

Try to activate the experimental game mode.

Can I use it on servers?

Yes, you are free to use it on public servers.

How do I install this texture pack?

The file is in .mcpack extension, so just tap on the file to automatically install the modification.
download anchor
Download Clear Craft Texture Pack for Minecraft PE