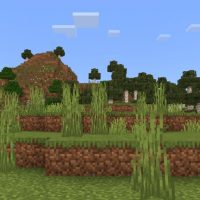 Sildurs Basic Shaders for Minecraft PE
Version MCPE: 1.17.0 - 1.20.31
Download
Download Sildurs Basic Shaders for Minecraft PE: add details to your world, make trees and grass wave and enjoy the changes!
Sildurs Basic Shader for MCPE
The game reality of Minecraft PE is very similar to the real world. Developers achieve this by creating realistic landscapes. They fill the area with plants, flowers, and trees that are familiar to every player.
However, there is no limit to perfection. You can always add naturalness to the territory of the game. It is what shader developers from all over the world are trying to do. A great example of how to improve the space is Sildurs Basic shaders.
Main Features
The main advantage of the Sildurs Basic shaders is the additional animation of plants in Minecraft PE. It means that all the leaves on the trees, as well as the grass of the game world, will noticeably sway from any breeze.
It is worth trying to go down to the water. Small waves will become noticeable on the surface, and the water itself will acquire the effect of flowing liquid.
Slight lighting changes will be noticeable in daylight, as well as during sunrise and sunset.
Technical Details
Minecraft PE players who have been familiar with the blocky world for a long time have probably met a similar type of shaders for the Java edition.
It is a popular addition to the game, which does not completely change the world but only adds details. For example, a barely noticeable orange shade of lighting.
There is one of the advantages of the Sildurs basic resource pack is also that you don't have to have a powerful processor. Shaders will still work and give some effect even on a weak device. So it is an affordable option for game users.
The important thing is that Sildurs shader does not support Render Dragon in Minecraft PE. Users of the game should consider this feature.
The shader is easy to use and install which makes it one of the best.
What if the shader doesn't work?

Try to activate the experimental game mode.

Can I use it on servers?

Yes, you are free to use it on public servers.

How do I install this shader?

The file is in .mcpack extension, so just tap on the file to automatically install the modification.
download anchor
Download Sildurs Basic shader for Minecraft PE