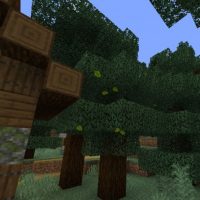 Better Foliage Mod for Minecraft PE
Version MCPE: 1.4.0 - 1.20.31
Download
Download Better Foliage Mod for Minecraft PE: make the landscape realistic, add leaves animation and new blocks!
Better Foliage Mod for MCPE
Players can find many unique plants and trees in Minecraft PE. But many of them want to improve the existing flora of the game world.
For example, some users would like to see more voluminous foliage and add realism to the landscape. The Better Foliage mod can help with this.
Firstly, the add-on will bring diversity to the forests and plains. And the plants will look more natural.
Better Leaves
This resource pack will allow players to see the world of Minecraft PE in a new way. The developer managed to improve the game graphics and add interesting features. Unfortunately, this can slow down the device.
It is better to use more powerful phone models with this mod.
The developer replaced the foliage with new 3D models that look much better. Once in the forest, players will appreciate how natural the trees look. The foliage will become more fluffy and voluminous.
Better Foliage
The Better Foliage mod will transform the familiar game world, making it more realistic. Improved plants will appear in Minecraft PE.
The foliage will become much more voluminous: players can notice more leaves on the trees. The developer added animation: the leaves will fall beautifully from the trees. The modification will also add new grass blocks.
To make it convenient, the author has provided an add-on configuration function.
There is a special button responsible for turning the mod on and off. Players can adjust the size of the leaves by stretching them vertically and horizontally. You can also change the height of the grass.
The territory of Minecraft PE will look much better, thanks to Better Foliage. The creator of the mod added a realistic soundtrack. Walking through the forest or near the river, you can hear sound effects, for example, the rustle of grass.
By the way, now the leaves will fall from the trees, which will give even more naturalness, making the world even more beautiful.
What if the mod doesn't work?

Try to activate the experimental game mode.

Can I use it on servers?

Yes, you are free to use it on public servers.

How do I install this mod?

You need to tap the file to download and open it in Minecraft PE.
download anchor
Download Better Foliage Mod for Minecraft PE