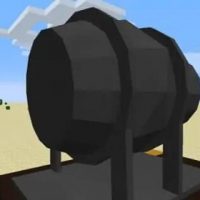 Nuke mod for Minecraft PE
Version MCPE: 1.13.0 - 1.19.83
Download
Download Nuke mod for Minecraft PE: try to blow up as much land as you can with the enormous power of nuclear warheads!
Nuke Mod for MCPE?
The TNT mod makes any player feel like an absolute tyrant and destroyer, often not enough to unleash anger.
That is why a selection of addons such as TNT expansion, dynamite-plus, and even a modification with a choice of explosive content has been compiled for you here.
More TNT
Addon on the expanded TNT arsenal will add more than two dozen incredibly destructive bomb types to the experimentation. Dynamite differs in characteristics and type of damage.
For example, some will cause a lot of damage to a particular object, while others will set gigantic forests on fire.
Users will be able to test rocket launchers and launchers to reach a target at very long distances with excellent efficiency. And most importantly, dynamite with a timer and even an actual nuclear bomb causes massive damage.
Dynamite-plus
This modification to Minecraft PE's military capacity will bring new bombs and another type of villager. A user who wants to play with new explosives will be forced to obtain them with the help of a merchant who deals in them.
The modification features a stick of extremely large dynamite with double, napalm, and even a sticky bomb. In addition, several types of coloring indicate the type and quantity of explosives in the arsenal.
Nuke addon
This addon is unique for Minecraft PE, as in addition to adding large bombs, it gives the player the right to choose their contents! All the textures of the massive warheads are neat enough to please even the most choosy player.
The explosives will have several colors and even shapes: black barrels, white nuclear bombs, and yellow missiles. The damage and destruction from these bombs will be so vast and strong that even the game can fly, so be careful.
Is there a nuclear bomb in the addon?

Do bombs have new textures in MCPE?

Yes, it's several types of textures

Where can I get these items in Minecraft PE?

You may craft or just find them.
Download Nuke mod for Minecraft PE