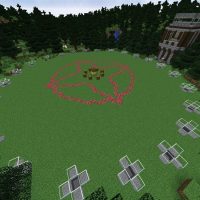 Hunger Games Map for Minecraft PE
Version MCPE: 0.14.0 - 1.20.31
Download
Download the Hunger Games map for Minecraft PE: a favorite minigame has become available for more users.
Hunger Games MCPE Map Highlights
Minecraft Bedrock Edition has tons of minigames with intriguing gameplay, repetitive joys of victory and sorrows of loss, and fantastic locations.
Bed and Sky Wars let you fight until death, hide-and-seek gives you an opportunity to sneak and disappear for fifteen minutes, and Death Run tests your skills and reaction.
Generally, Minecraft has perhaps the best minigames you can find on the Web.
Notwithstanding, there is one game that has been there for a long time now and has existed nearly from the release of MCPE.
This minigame is Hunger Game, utterly the predecessor of the Battle Royale genre. It features simple rules but entertaining gameplay.
Therefore the Web is full of Hunger Games maps where Minecraft PE players shall fight for their own destiny and win prizes.
Medieval Ways
As you can tell by the title, this Hunger Games map features a place that derived right from the Middle Ages, which makes this location quite unique.
First of all, a few buildings are constructed in a contemporary style of that time where you can loot and hide in. Besides, this Minecraft PE map is not as big as you would like it to be.
Despite that, there is a vital difference in the game's speed. Everything happens faster: players appear on the map, they loot the chests, combat with each other, die, and repeat.
Therefore you may have more fun and pleasure exploring this unique location and dying on it repeatedly to start it afterward.
Classic Hunger Games
According to the authors, they tried implementing the original minigame and bringing back the classics. Consequently, you may recognize some of the constructions and other moments.
Nevertheless, this Minecraft location is still pretty unique and rare to find. Besides, it owns all that you might need in a Hunger Games map.
Is this Hunger Games MCPE Map large?

No, but the games will be faster.

Can I replay this map?

Is there a storyline?

No, but your goal is become the last man standing
download anchor
Download Hunger Games Map for Minecraft PE