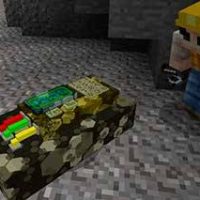 C4 Mod for Minecraft PE
Version MCPE: 1.1.0 - 1.20.32
Download
Download C4 Mod for Minecraft PE: blow up a massive area with new and destructive bombs to kill all aggressive mobs in the cubic world!
C4 Mod for MCPE
Users from the gaming community who love many explosions and epics are often disappointed in Minecraft Pocket Edition. That is why the developers tried and released this modification, which will correct the problem with explosion defects in Minecraft Pocket Edition.
The C4 Bombs mod for Minecraft PE will add new explosives to the game, which will be more powerful than even a few TNT blocks.
In this way, you can get and enjoy epic explosions instead of the standard bomb in the game. No one is surprised anymore.
Features
As it was written above, Blowing up TNT blocks is no surprise to anyone, so there is a new addition to the Internet with which we share – it will replace the creepers.
There will no longer be a mob like a creeper in the game, and C4 replaces it in Minecraft Bedrock Edition.
This bomb is much more effective and more robust in terms of blast power than the same TNT. You can blow up anything – buildings, caves, mobs, that sort of thing.
Option of using
By the way, this is a great way to gather the resources you need: you put the bomb in the right place, and then you blow it up, and then you have to collect the broken blocks – the method is very convenient, practical, and saves a lot of time.
Finding a bomb
The bomb is easy to find since the C4 Bombs mod for Minecraft PE replaces the creepers, which are usually not rare, but if you want to get a new item quickly, activate the creative mode use the eggs spawn by the creeper.
Blast process
The estimated blast time is 10 seconds – it will be enough for your character to escape to a safe distance. This is very important in MCPE.
Otherwise, you risk losing part of your life, or you die at all because it's essential to remember this – this bomb is much more powerful than TNT.
What was replaced by a bomb in Minecraft PE?

What the estimated blast time of the bomb in MCPE?

Where can I get these items?

You may craft or find them.
download anchor
Download C4 Mod for Minecraft PE