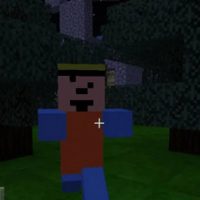 Baldi Basics map for Minecraft PE
Version MCPE: 1.5.0 - 1.20.31
Download
Download Baldi Basics map for Minecraft PE: Explore the wonderful world of the popular Baldi video game with your friends!
Baldi Basics map for MCPE
Baldi is a popular computer game where you have to collect notebooks and avoid a Baldi teacher. Here are some thematic maps for MCPE that make you feel like Baldi heroes.
Maps are intended to be played with friends or alone, so it is the player's choice!
Find The Button
This is the area for Minecraft Bedrock Edition, where you have to find a hidden button. You have to walk around the school and collect notebooks, and they will act as buttons.
There's even a story in this area that explains that you have to find all the records of some friend of yours who accidentally forgot them at school after school. You can also connect with your friends to make it more fun and faster to pass this exciting map.
Multiplayer
In this location, you're an ordinary student in math class. Your teacher hates it when someone misses an example or misdecides it. You have to be good students and do all the work properly.
The territory for Minecraft PE is made for two players. Where the first is a schoolboy and the second is a teacher. The school where all this is happening is very calm and exciting. Every room is set up, and there's a library.
The map perfectly shows how you can use ordinary MCPE blocks to create sets.
Mountain Tour
This is a sequel to the Baldi location where you're going into the forest. This time, the teacher took you up to the mountains to show you the area's nature. It would be best if you still kept the fire going.
The main task for you will be pretty simple: you need to collect sticks and fill a special fire in Minecraft Pocket Edition. If you fail and the flames go out, Baldi will come after you. Also, a mad teacher puts bear traps everywhere, so be careful not to get into one.
What is the task on the Mountain Tour map?

The main task is collecting sticks.

Which map has the school on it?

There are two: Find The Button and Multiplayer.

Are there structures?

Yes, these addons contains various constructions.
download anchor
Download Baldi Basics map for Minecraft PE