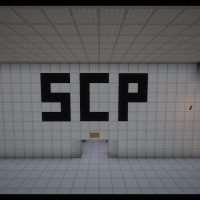 SCP map for Minecraft PE
Version MCPE: 0.14.0 - 1.20.32
Download
Download SCP map for Minecraft PE: Running away from Annie and the horrors of SCP allow you to plunge into a vast world of fear and monsters, with mystery and danger at every corner.
SCP map for MCPE
There is a unique SCP community in the world that is carefully hidden. His task is to collect and investigate a massive stream of data on hundreds of dangerous non-human beings.
It's fascinating for many people, and then very soon, there were unique maps for MCPE, where you can go to one of the SCP labs and try to figure out what's going on inside.
But be careful because the territory is filled with terrible monsters and a frightening atmosphere of hopelessness and danger.
Escape from Annie
You will immediately find yourself in a laboratory on this map where a catastrophe has occurred, and one of the subjects has escaped. By killing all the people in the SCP building, the creature has finally discovered you. And you have no choice but to flee.
We advise you to be on your guard at all times because there is a chance that some dark angle will cause another monster to jump, not Annie. To keep players in fear for long, several other creatures were added that would also be extremely dangerous.
The author of the map on SCP for Minecraft Bedrock Edition advises setting the brightness at maximum. Otherwise, you will see nothing at the location.
SCP horrors
SCP Horrors is an unusual map on topics of SCP laboratories, where authors have created an enormous research complex. However, in inhuman experiments, something has escaped into the world Minecraft Pocket Edition and now walks around, ready to kill everything in its path.
Note that the map has its sounds and add-ons, and therefore play better in headphones and at high volume to hear the approach of the SCP monster. The author also advises to put the brightness at maximum and reduce the complexity to light.
But for those who are not afraid, you can always get a hardcore mod and tickle your nerves.
How the creature can find me?

It kills other people and then find you.

Is there some other creatures but Annie?

Yes, there are many other scary creatures.

How can I get items to fight?

You may craft or find it.
download anchor
Download SCP map for Minecraft PE