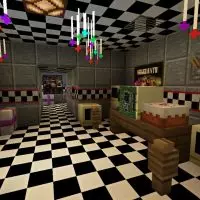 FNAF map for Minecraft PE
Version MCPE: 0.14.0 - 1.20.31
Download
Download FNAF map for Minecraft PE: Experience your fear with your friends in places like the Freddy Restaurant, Horror Animatronics, and the exciting mini-game!
FNAF map for MCPE
Most Minecraft PE players have probably played a game called FNAF. They know world-renowned characters from this popular game universe.
With the modifications, any user can feel like a pizzeria security guard watching the animatronics in the cubic world.
Freddy's restaurant
Addon adds to Freddy's restaurant, a well-known pizza location at Minecraft PE. The map's main feature is that it is possible to set suitable textures and fashions to experience the atmosphere fearfully.
But it should be noted that there is no plot, but you can create it yourself, or you can have fun with your friends a few times.
Horror animatronics
The scariest map with animatronics for Minecraft PE is undoubtedly designed to be played by two and many players. You'll have to share the part, and someone will have to change into a guard and try to kill evil dolls.
Another user should try on a doll costume to scare the life out of a defenseless pizza porter. The entire area is tied to the third part of the game and will also have terrifying sounds from the original series.
Mini-game
This map is suitable for later versions of Minecraft PE. It is characterized by slightly extended functionality, particularly in textures. All actions also take place in the famous pizzeria, built as closely as possible to the interior of the original series.
The location is intended for a maximum of five people. Still, the user can go beyond this number and invite even more. Most change into animatronics, and those who remain will play a harmless security guard, as in all classical versions of the modification.
What roles do players have on these maps?

One player has to play a guard and the other an animatronic.

How well are the textures of the animatronics made?

They're done pretty well.

Are there structures?

Yes, these addons contain various constructions.
download anchor
Download FNAF map for Minecraft PE