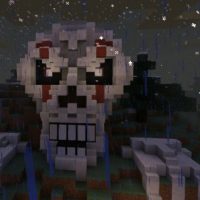 Halloween Map for Minecraft PE
Version MCPE: 1.6.0 - 1.19.63
Download
Download Halloween Map for Minecraft PE: plunge into the atmosphere of the most creepy and at the same time fun holiday of the year.
What is interesting in Halloween Map?
One of the most terrible, but at the same time very cheerful holidays celebrated all over the world. Halloween Map is dedicated to this day when everyone changes into different costumes and goes to friends to have fun together.
This time, Minecraft PE users will have a great opportunity to explore a theme park or a beautifully decorated town, as well as try their hand at small games based on Halloween.
Burn It
This update for Halloween Map is perfect for both single players and for playing in the company of friends. Players will have to choose from several armor options to try to survive inside huge structures.
They are made in the form of a witch, a pumpkin, and a knight with a sword. Minecraft PE players can teleport or use a ladder.
Land
A cool-themed location is presented in this Halloween Map add-on. Players find themselves in a real amusement park, where they will find a lot of adventures in the horror style.
The atmosphere of a terrible holiday is complemented by unpleasant weather in the form of lightning, rain, and snow. The authors tried to combine all the main attributes of this day: a lot of pumpkins, ghosts, and monsters.
A huge number of different buildings and even a Ferris wheel will give Minecraft PE players the opportunity to have a lot of fun.
Town
All residents of this cozy town have prepared for the event, users can see festive attributes everywhere. Behind the doors of the houses, the heroes will find chests with treats. But not only sweets are waiting for Minecraft PE players, but also ghosts will meet on the way.
The authors of Halloween Map have created a small amusement park where you can shoot arrows or go through a maze.
How to download Halloween Map?

Tap the file and open it in Minecraft PE.

Can I use this map with my friends?

Yes, the map can be used for a multiplayer game.

Can i use the map in the survival mode?

Yes, the map is suitable for the survival mode.
Download Halloween Map for Minecraft PE