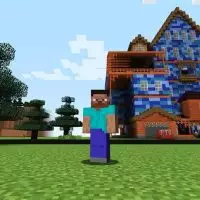 Hello Neighbor Map for Minecraft PE
Version MCPE: 1.1.0 - 1.20.31
Download
Download the Hello Neighbor map for Minecraft PE: get to the basement and find out what's hidden there.
Hello Neighbor MCPE Map Highlights
Hello Neighbor is a horror quest game where you have to spy on your Neighbor and investigate his house's mysteries.
It's been trendy, and thus there are so many unique and exciting Minecraft PE maps and mods. Anyone can join the backbreaking investigation at the end of which you'll be mindblown.
These MCPE maps feature a variety of odd rooms in the Neighbor's house. Your main goal is usually to reach the basement, but he will not let you in, so you have to sneak.
Neighbor from 2004
The brave voluntary investigators of this Minecraft PE horror map will have a considerable location to explore, with dozens of secrets hidden within the walls of this cursed house.
According to the authors, this place has the very Neighbor, and he will not tolerate you trespassing his property so effortlessly and freely.
Therefore MCPE players should get prepared to fight. The Neighbor throws stinky and sticky stuff to stop or slow you down. Thence one must be precautious to get to the basement with no injuries.
Furthermore, there are a few brand new items one can use as an advantage. Binoculars will help players to spot the Neighbor or find out the far secrets across the map.
Surroundings
The most notable feature of this place in Minecraft PE is its furnishings. It seems the authors spent a lot of time bringing the cozy and gloomy vibe to this house.
However, more interesting is that you can interact with all furniture, meaning one can turn on and off a TV or sit down on a chair.
You won't probably have time to lay down on a bed, but you are free to do it anyway. The Neighbor's Basement is the most complicated place to get in.
MCPE players will find out many horrible and shocking facts about the main antagonist that'll change your mind.
How do stop the Neighbor in Hello Neighbor MCPE Map?

You have to get to the basement.

Is the Neighbor evil?

You will find it out at the end of the story.

How many attempt to I have?

You have infinite number of tries.
download anchor
Download Hello Neighbor Map for Minecraft PE