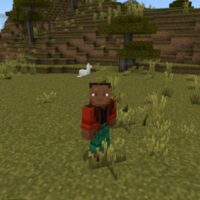 Prizma Shaders for Minecraft PE
Version MCPE: 1.20.12 - 1.20.32
Download
Download Prizma Shader for Minecraft PE: get incredible emotions from the gameplay, thanks to changes in graphics and lighting of the cubic world.
What is interesting in Prizma Shader?
During the game, users increasingly began to pay attention to the graphics, which in Minecraft PE does not meet all modern requirements and capabilities. At the same time, talented enthusiasts are creating more and more diverse updates that are aimed at improving the picture. Adding a variety of animations and other changes.
This time in Prizma Shader they managed to create an incredible result that will pleasantly surprise every player and give new emotions from the gameplay.
Main Features
The authors of  Prizma Shader used in this update the PBR resource package. Which ensures the interaction of light with materials by the laws of physics. This allowed them to achieve maximum results and, as a result, give users an unforgettable experience of the gameplay in Minecraft PE.
The main goal, which they certainly fulfilled perfectly, is the maximum detail of the entire cubic world, as well as the best possible visual effects at the moment.
The amazing beauty of nature will appear before the players. This creates an incredible and very attractive atmosphere. In such a world, you want to stay for a long time and create something new and unique.
Graphics and lighting
The first thing that players who install Prizma Shader will see is the stunning beauty of the sky. It looks great at any time of the day and will please absolutely every player.
All aspects of the game space are executed with great attention to detail and customized to get the best result. It is worth noting that this add-on works on any device, which means it will be available to the largest number of Minecraft PE users. Install this add-on right now and enjoy incredible lighting that has never been available in the cubic world before.
What if the Prizma shader does not work?

Try to activate the experimental game mode.

Can I use it on servers?

Yes, you are free to use it on public servers.

How do I install this shader?

The file is in .mcpack extension, so just tap on the file to automatically install the modification.
Download Prizma shader for Minecraft PE