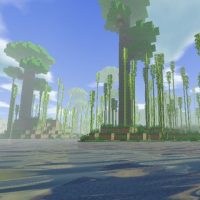 BSL Shaders for Minecraft PE
Version MCPE: 1.11.0 - 1.20.32
Download
Download BSL Shaders for Minecraft PE: make the game world beautiful with a unique system of light, add bright colors, and more!
BSL Shader for MCPE
Minecraft PE fans often want to improve the game settings. They change the graphics, develop their own texture packs and shaders. The functions of such additions are to adjust the lighting, add shadows and highlights close to natural.
BSL shaders have been created especially for the game world. They can transform all the game. Some textures change completely, some of them remain the old ones.
It is known that officially there are no BSL shaders for the cubic world. But by the efforts of  the game fans, some of them were created, and they definitely deserve attention.
RUSPE
This shader adds a slightly brighter light and realistic shades, depth and volume to the visual part of Minecraft PE.
The developer positions his shader as one of the realistic ones. It runs even on older devices.
HTRE
Another BSL shader for Minecraft PE, which deserves players attention. With it, the lighting will not differ too much from the original.
The developer tried to add some realism to the clouds. Thanks to this effect, the terrain looks beautiful.
By the way, you can even notice how the leaves on the trees are swaying from the wind.
Kamii
This resource pack adds realistic colors and light to the game, especially water looks natural. Trees become more voluminous.
You can choose the shader you like, they all bring a complete transformation to Minecraft PE.
The more powerful the device you are playing on, the more noticeable the shader effects will be, this applies to all options from the selection.
Adding BSL shaders to your world is very simple. Download the file, click on it after downloading and wait for the import to finish. Then open the settings and select the shader in the global sets.
What if the shader doesn't work?

Try to activate the experimental game mode.

Can I use it on servers?

Yes, you are free to use it on public servers.

How do I install this shader?

The file is in .mcpack extension, so just tap on the file to automatically install the modification.
Download BSL shader for Minecraft PE