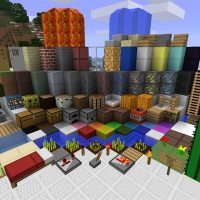 PVP Texture Pack for Minecraft PE
Version MCPE: 1.1.0 - 1.20.31
Download
Download the PVP Texture Pack for Minecraft PE: defeat all your enemies in the gorgeous aesthetics.
PVP MCPE Texture Pack Highlights
PVP stands for Player Versus Player, and as you know, Minecraft PE is full of battles between various users and even teams.
Everybody is obviously trying to win the fight as quick and effortless as possible with no extra expenses.
But one thing is to defeat your enemies, and another is to leave the combat flawlessly. PVP texture packs in MCPE can help you with that.
The outcome of your military actions will be completely different since everything around you look marvelous and will inspire courageous users to fight as brave and tirelessly as possible.
Dynamic Duo
The most notable thing about this PVP texture pack is its diverse nature. These Minecraft Bedrock Edition textures are the result of the combination of two different styles.
The authors tried to replicate a united form of both realistic and straightforward genres in Dynamic Duo. Thence users will witness some fancy blocks and some utterly grim structures.
For instance, wood logs look gothic-like, with every stem and shaft scrupulously detailed. On the other hand, the majority of ores may seem to derive from fairytales with unicorns.
Generally, MCPE will have an unforgettable and distinct style most users will undoubtedly like.
Infinity PVP
Furthermore, these Minecraft Bedrock textures will let your glorious battles exceed and multiply, and your enemies dwindle and fear.
Your fame will be as infinite as these fantastic textures. Besides, this sandbox survival looks charitable and thriving, making its combats more exciting and challenging.
Moreover, many MCPE users shall experience optimization boosts, thanks to this texture pack's low resolution. It does not mean the game would look poor and ugly.
Its quality is perfect, but in addition to its style, weak devices should run Minecraft PE better and less laggy.
Will PVP MCPE Textures help me win?

Yes, they will inspire you to fight.

Can I use it on servers?

Yes, you are free to use it on public servers.

Have weapons chaged their textures?

Yes, they have been altered.
download anchor
Download PVP Texture Pack for Minecraft PE