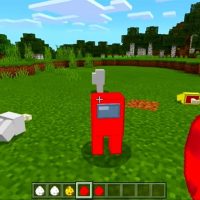 Among Us Mod for Minecraft PE
Version MCPE: 1.16.0 - 1.20.15
Download
Download the Among Us mod for Minecraft PE: protect poor and defenseless crewmates from evil imposters and their vicious desires.
Among Us MCPE Mod Highlights
There was gaming trading recently in all social media. This game is Among Us, and it came out two years ago but got its audience thanks to a few streamers and YouTubers.
Furthermore, many Minecraft PE users have got interested in this fun detective survival in a spaceship game.
Thence we've got so many maps, addons, texture packs, and more related to it on the Internet. Some of them are minor, but there is an addon changing and adding a lot for MCPE.
Mobs
First of all, this Minecraft PE modification features new mobs: brave but defenseless crew members and ominous imposters who want to eliminate the whole team.
Your role is to either find balance or deprive all filthy traitors. Nonetheless, it is no easy task since imposters look the same way crewmates do.
The Among Us fans will have to decide who is worthy of life and who's not. Yet, there's an easy way to spot the monster among the sheep in MCPE.
Despite usually being extremely intelligent in the original game, local rebels do not even try to hide. Therefore if you spot a crewmate killing everyone else, it's the rat you've been looking for.
Still, they are hostile in Minecraft PE and thus will attack users as well. However, the imposter's health and strength are no comparison to the player's.
Crewmates
On the other hand, we've got the members of a spacecraft which engines have broken down and must be fixed by them.
MCPE users can tame the little folk, so you have a companion for your chilling and exciting adventures. They don't do much but can make a company for you.
Obviously, you'll have to protect them from the imposters. Nevertheless, zombies, skeletons, and other vanilla Minecraft PE creatures will hunt them down as well.
Can I tame an imposter in Among Us MCPE Mod?

No, you cannot do it because they are hostile.

Will crewmates attack the imposter?

Do creepers attack crewmates?

Yes, they do, so you should be wary.
download anchor
Download Among Us Mod for Minecraft PE