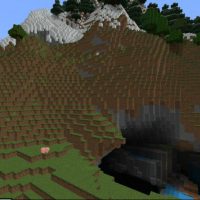 FPS Texture Pack for Minecraft PE
Version MCPE: 1.17.0 - 1.20.15
Download
Download FPS Texture Pack for Minecraft PE: experience the gameplay with the most optimized performance and no unnecessary changes.
What is interesting in FPS Texture Pack?
The cubic world is constantly changing, new opportunities, creatures, and biomes appear in it. On the one hand, this is very cool and makes the gameplay more interesting and diverse, but on the other hand, it loads the device heavily.
At the same time, not all Minecraft PE users are happy with such changes and are looking for ways to get rid of them. It was in this case that the authors created the FPS Texture Pack, in which they removed all unnecessary components of the game in their opinion, and optimized its performance for the best gameplay.
Graphics
The authors of the FPS Texture Pack tried to remove as many as possible all the objects of the cubic world that affected its performance. Thus, Minecraft PE heroes will not see the sun or moon, as well as stars, clouds, and shadows of objects. And now there simply isn't.
In addition, the water and leaves have become opaque, and the appearance of all kinds of particles is completely disabled. At the same time, it is worth noting that the cubic world has retained its recognition and many changes will become noticeable only if you know about them.
But at the same time, the gameplay will become much more optimized, and performance will increase several times at once.
Changes
Thanks to the efforts of the authors of the FPS Texture Pack, it is fully compatible with the Render Dragon engine and can work both with and without it. High performance will allow absolutely every Minecraft PE user to enjoy the gameplay without any crashes or freezes.
Do your favorite things in the cubic world – create unique buildings or fight monsters. All the functionality that exists in the game has been completely preserved. By the way, it is worth noting that now the reservoirs will be opaque and you can only see something by going underwater.
What if the FPS Texture Pack does not work?

Try to activate the experimental game mode.

Can I use it on servers?

Yes, you are free to use it on public servers.

How do I install this texture pack?

The file is in .mcpack extension, so just tap on the file to automatically install the modification.
download anchor
Download FPS Texture Pack for Minecraft PE