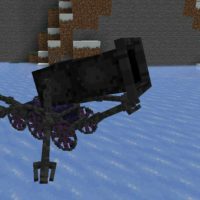 Mechanisms Mod for Minecraft PE
Version MCPE: 1.19.0 - 1.20.15
Download
Download Mechanisms Mod for Minecraft PE: use energy generators, as well as other unusual items to make the gameplay even more diverse.
What is interesting in Mechanisms Mod?
In the real world, each of us is surrounded by all kinds of objects that make the routine process easier, and also help in everyday life. At the same time, there are not so many of them in Minecraft PE, so the author of Mechanisms Mod decided to fix this situation and invites players to evaluate what he did.
In addition, another addition presents a large selection of various objects, some of which look quite unusual, but will be useful in the gameplay.
 Mechanics
By opening the Inventory of the Creative Minecraft PE mode, players will see a huge number of all kinds of items and spawn eggs that appeared there.
The author of Mechanisms Mod offers to learn about the unique capabilities of each of them and use them in the gameplay.
Items
For example, a crushing table allows you to crush various objects and thus get them in larger quantities. For example, to make flour from wheat, and sugar from cane. After installing Mechanisms Mod, survival will not always be an easy process, largely because various aggressive creatures will have new weapons.
So looters will get a cannon and a catapult that they can use against iron golems and villagers during raids in Minecraft PE.
Mobs
There will also be some new items among the inhabitants of Minecraft PE. It is worth noting the most unusual of them: a crazy chicken can attack all creatures around, as well as control the actions of creatures nearby.
The evil snowman will shoot ice balls, and it will be possible to meet him in cold biomes. Another mob that will appear after installing the Mechanisms Mod is a Bombardier – he can become a participant in a Dangerous raid.
Modern Mechanisms
This time the update will add a lot of quite modern items to Minecraft PE, which will nevertheless be extremely useful in the cubic world.
For example, by installing the Mechanisms Mod, the player can fully appreciate the capabilities of a Wind Generator or Reactor.
How do I install this Mechanisms Mod?

The file is in .mcaddon extension, so just tap on the file to automatically install the modification.

Can this mod be run in a multiplayer game?

Yes, for this it is enough just to be the owner of the map and install this modification on it.

What if the mod does not work?

Try to activate the experimental game mode.
download anchor
Download Mechanisms Mod for Minecraft PE