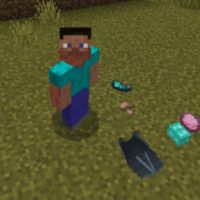 Item Physics Mod for Minecraft PE
Version MCPE: 1.18.0 - 1.20.32
Download
Download Item Physics Mod for Minecraft PE: create a more realistic world in which all discarded objects will behave differently.
What is interesting in Item Physics Mod?
In order for the gameplay to be interesting and not lose its relevance, developers are constantly creating new updates. This helps to make the cubic world diverse and always surprises the players with something interesting.
Users probably noticed that the game has a cartoon and does not really look. Item Physics Mod will try to fix one of these moments and will allow users to create the impression that Steve is in the most ordinary space.
Now the discarded objects will not fly in the air, as is usually the case in Minecraft PE. They will be subject to gravity, which means they will lie on the surface.
Main Features
Item Physics Mod is an interesting addition that will change the mechanics of the behavior of objects that the player has thrown out of the Inventory. Usually, in Minecraft PE they seem to float in the air and this creates a cartoon and unreal appearance of objects.
Now they will be subject to gravity, so the hero will be able to see how all objects lie on the surface. It is also common that it is enough to approach this subject to lift something.
After installing the update, this will not work. The player will need to click on it or sit down next to it. Interesting features allow you to take a fresh look at the whole gameplay.
Opportunities
At the moment, the Item Physics Mod is still under development, but many items have already changed their throwing mechanics. Minecraft PE players can try new features right now.
It is worth noting that for this update to work, it is necessary to change the language in the settings to English. Unless, of course, it has not been done before. Also, do not forget to turn on the Experimental Mode to take advantage of all the features.
How do I install this Item Physics Mod?

The file is in .mcaddon extension, so just tap on the file to automatically install the modification.

Can this mod be run in a multiplayer game?

Yes, for this it is enough just to be the owner of the card and install this modification on it.

What if the mod doesn't work?

Try to activate the experimental game mode.
Download Item Physics Mod for Minecraft PE