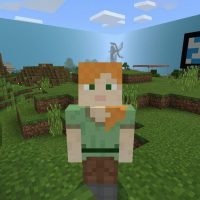 Bloxnite Map for Minecraft PE
Version MCPE: 1.4.0 - 1.20.31
Download
Download the Bloxnite mod for Minecraft PE: get an entirely new experience of drive, excitement, and competition.
Bloxnite MCPE Map Highlights
Fortnite has become one of the most popular games in recent years. This action battle royale game drags attention for various reasons, and an exquisite location is one of them.
Luckily, there are thousands of Fortnite fans among the Minecraft PE community. Thanks to the enormous work they've done, we have multiple Fortnite-related additions.
For example, there are modifications adding new weapons and maps featuring the most impeccable territory you've ever seen.
Bloxnite is one of them and will fascinate you for sure in MCPE.
Sights & Rules
It appears there are multiple unique and somewhat odd places you can visit in this Minecraft PE map. For instance, a railway station is a welcoming place for all to shoot each other.
It turns out Bloxnite inherits its original battle royale's gameplay. You have to overcome all difficulties on your way, slay all other competitors, and become the last man standing.
If you manage to achieve it, you are the winner, so you are free to start the next game. Bloxnite might be considered as a minigame due to the similar gameplay.
On the other hand, every MCPE user is obliged to follow the rules to ensure a fair and fun game. Subsequently, you should not break the walls and leave the combating area under any circumstances.
Bloxnite has a large territory anyway.
Extra
Furthermore, there is a military bus you can find wandering around the map. Besides, numerous chests can be found at any corner of this place.
They contain armor, tools, ammo, and food supplies if needed. That is the best and most resolute way to get started in Minecraft PE: it's a fight till death map, after all.
Bloxnite has a barn, a police car, a small cottage, a sparse forest, and even mines. Generally, there are a lot of places to visit.
Is Bloxnite MCPE Map large?

How do I find a wandering bus?

It is somewhere in the middle of the map.

How do I find chests?

They generate all throughout the location.
download anchor
Download Bloxnite Map for Minecraft PE