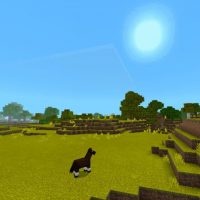 Shaderless Shaders for Minecraft PE
Version MCPE: 1.14.0 - 1.20.32
Download
Download Shaderless Shaders for Minecraft PE: add new effects to your world, change textures and colors of the objects, improve lighting, and much more!
Shaderless Shader for MCPE
Among the many shaders for Minecraft PE, there are some options for changing the lighting, adding shadows, and others.
The Shaderless shaders developer created something unusual for players: he changed the textures of some objects, which is not typical for such resource packs.
Shaderless shader
This resource pack with an unusual name adds many effects to Minecraft PE. The Shaderless shader will not change the game totally because it does not involve dynamic lighting or many shadows.
But players will notice more juicy colors, clear water, and beautiful lighting. The developer has also improved the textures of the sun and the moon.
By the way, the water changes color and transparency depending on the depth.
RTX Shaderless shader
The author of Shaderless shader for Minecraft PE chose an interesting name for the pack. Its features are similar to shaders or textures but do not belong to either indeed.
The file weight is not enough for ordinary shaders, and the changes are so significant that they can't be called textures. That's why the developer came up with such a funny name for his work.
Features
The Shaderless shader for Minecraft PE includes realistic clouds, glowing sun, improved texture of moon, clean weather, new colors of water, and much more.
The color of the water depends on the depth and the blocks nearby. Players can find an incredibly transparent glass. The color solutions of the tropics are perfect.
The shader adds soft lighting and pleasant light levels in the caves. Users can see blue sky and different beautiful clouds.
There is also realistic weather. For example, you can see blue fog and waving plants.
What if the shader doesn't work?

Try to activate the experimental game mode.

Can I use it on servers?

Yes, you are free to use it on public servers.

How do I install this shader?

The file is in .mcpack extension, so just tap on the file to automatically install the modification.
download anchor
Download Shaderless shader for Minecraft PE