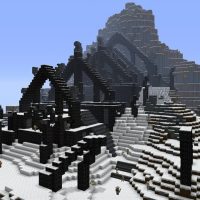 Roleplay Map for Minecraft PE
Version MCPE: 0.14.0 - 1.20.32
Download
Download the Roleplay map for Minecraft PE: be who you want to be and never restrain yourself.
Roleplay MCPE Map Highlights
Minecraft's most exciting feature is its limitless possibilities allowing users to do absolutely everything they may want.
This core aspect blurs borders and makes this sandbox survival perfect for roleplaying. That is why many Minecraft Bedrock Edition users have created numerous fantastic maps.
These introduce an unbelievable level of freedom to whoever wants to roleplay. It means you can become a warrior, a wizard, or anyone else.
Luckily, Roleplay Maps do not restrict you and present freedom of choice.
Relic of Riverwood
This MCPE location features a small village from perhaps the most popular Roleplaying Game of all time.
Riverwood from The Elder Scrolls V: Skyrim has a story one should follow to understand the world's situation.
However, Minecraft explorers don't have to do it, spending more time discovering secret locations and talking to the villagers instead.
Furthermore, the unique architecture will make your eyes blossom since Riverwood has undoubtedly pleasant and cozy vibes.
It will be no wonder if you decide to stay here and start a new peaceful life in this wilderness. Besides, Riverwood is perfect for roleplaying given the surrounding area,
Minecraft PE inhabitants are free to become lumberjacks, miners, or farmers at least. The local guard patrol always employs new members, so you should pay attention to it after all.
The World
Talking about the surroundings, Relic of Riverwood has a uniquely designed climate. It features dense forest, rapid rivers full of salmon, ice-cold mountains, and sun-heated plains.
Minecraft discoverers will be shocked to know how vibrant this small map is. Generally, it is excellent to start roleplaying as an adventurer or a villager dwelling in Riverwood.
Elmsville
On the other hand, this Minecraft PE map has a modern city with lots of buildings to explore. For instance, there are banks and police departments.
It denotes you can be anyone you would like to be. Therefore this MCPE map is almost perfect for role-playing.
Is this Roleplay MCPE Map large?

Are there deserts?

No, it takes place in average climate region.

Is there a storyline?

Yet, there is a whole plot.
download anchor
Download Roleplay Map for Minecraft PE